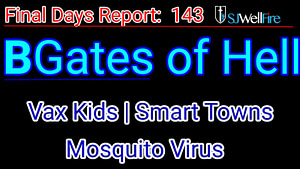 Dreams
Bill Gates of Hell have Opened 
New ebook available about the fourth beast tech system (Link below). Note, I'm looking to get it edited but the couple people that tried thought the information was too scary.Whatever Bill Gates pushes, run from it. Do the opposite. We cover smart cities plus a dream on the tech hitting small towns. A new mosquito virus has been reported. Plus, some interesting tweets from Jim Stone Media about Kids and the poke.
You can watch this video and others in full on our website: https://sjwellfire.com/.
New Ebook – Need editor but it will wake up the asleep. https://www.amazon.com/Seal-Opened-Keys-Beast-KINGDOM-ebook/dp/B0B65NZH1R/ref=sr_1_1?crid=2YEG8CQO1U2L7&keywords=sjwellfire&qid=1657545150&s=books&sprefix=sjwellfire%2Cstripbooks%2C73&sr=1-1
Chat with us on Gab: https://gab.com/sjwellfire.
If you appreciate our videos, please consider supporting us financially: https://sjwellfire.com/support/.
Read More »