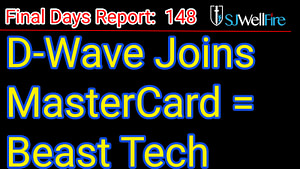 News
Pay with your face or hand. Your getting primed with the Mark of the Beast Tech. We go into Dwave technology. This all starts with Seal one opening and priming the Fourth Beast Rising that is Iron Mixed with Clay or Graphene Oxide mixed in you. Plus I found an old article how they can take away your love of God with Magnets.
You can watch this video and others in full on our website: https://sjwellfire.com/.
Chat with us on Gab: https://gab.com/sjwellfire.
If you appreciate our videos, please consider supporting us financially: https://sjwellfire.com/support/.
https://www.amazon.com/Seal-Opened-Keys-Beast-KINGDOM-ebook/dp/B0B65NZH1R/ref=sr_1_2?crid=1NNH620XXMKWV&keywords=sjwellfire&qid=1658255333&sprefix=sjwellfire%2Caps%2C132&sr=8-2
Read More »