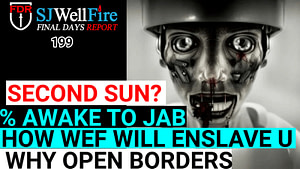 Dreams
WEF, Russia, and WHO promote Digital Enslavement 
Open borders promotes human trafficking | Planet X or Double Sun | WHO, Russia, and WEF digital Id Enslavement | People are waking up to the Vaccine Death | Holiday Heart Syndrome being pushed but no mention of all the death | In the book of Acts that Reminds me of the time we are in | Russia Dream of a dark storm | Sorry for the Audio..
Part 2 Bible Study on the WHY elite making their move so fast : https://sjwellfire.com/teachings/why-are-the-elite-pushing-for-so-much-destruction-from-a-biblical-perspective-fdr-198-bible-study-part-2/
Join our newsletter: https://sjwellfire.com/
Gab: https://gab.com/sjwellfire.
Support us to save souls via the news: https://sjwellfire.com/support/.
or [email protected] paypal
Book of the End Days Beast System: https://sjwellfire.com/seal-one-has-opened-book/
How Will the WHO and WEF Enslave YOU..
Read More »