If Your Government Loved You, They Would
Go over actions that the government should take if they really loved you.
Reference podcasts to consider:
https://sjwellfire.com/teachings/youve-been-poisoned-for-years/
https://sjwellfire.com/teachings/delusional-choice-sheep-to-the-slaughter/<br
Read More »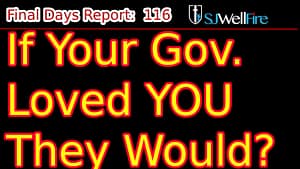 If Your Government Loved You, They Would
Go over actions that the government should take if they really loved you.
Reference podcasts to consider:
https://sjwellfire.com/teachings/youve-been-poisoned-for-years/
https://sjwellfire.com/teachings/delusional-choice-sheep-to-the-slaughter/<br
Read More »
Clot Shot is Iron Mixed with Clay – Other Supporting Scripture plus more occult evidence with Daniels Fourth Beast System
Daniels fourth beast rising with iron
Read More »
Hugh Hefner into Snuff Films, Beastiality, Rape, Black Mail..   Judgement Starts in the house of the Lord.
We cover what the word of God says about
Read More »
The pre tribe rapture is very deceptive and can cost you your soul. It has been taught in Seminary schools and really is just bad
Read More »
In the news two wild stories about new celestial findings that give cover for the incoming planet x, nibiru, wormwood systems that are in the
Read More »
Evidence the First Seal was Opened and Talk about the other Seals being Primed.   Yes, You'll go through Tribulation but Not God's Wrath.
We unlock the
Read More »
Ten Kings in the Book of Revelation that align with the Beast could be Mega Corporations within the One World Government 
Show 10 Kingdoms Club of
Read More »
Lawlessness is a PLAYBOOK by the Elite to Keep you in a TRANCE 
We cover 9 reasons for lawlessness that include destroying small business, assault on
Read More »
Biblical Teaching with Practical Application
The ministry goal of SJWellFire Final Days Report is to help saints to be worthy of being in the Philadelphia Church. The ultimate conspiracy is this fallen, satanic world vs. God's Word. Everything is an inversion from the Word of God. An example of this is the unisex agenda, which intends to destroy God's creation and take your soul. What is good is being called evil and evil is being called good. It's really that simple.
We are not an on-trend ministry of this world with skinny jeans, tattoos, or other worldly topics. However, we understand the temptations and sin of this world and repent always. We all, in short, are sinners. Not being afraid of tough lessons may be considered dangerous or offensive.
We know the Bible is a supernatural book that always shows that it is inspired beyond time and space with prophecy, architecture, and science. The KJV is our Bible.